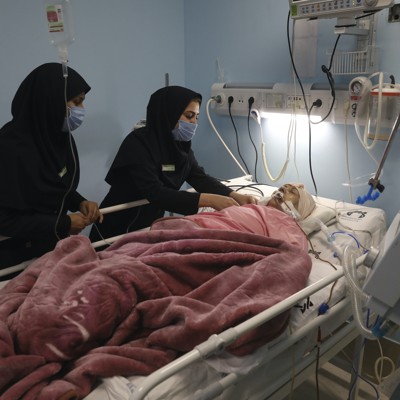 America Should Help Iran Get COVID Vaccine
Following fierce criticism amid a deadly fifth wave of COVID-19 in Iran, Supreme Leader Ali Khamenei appears to have done something he is often loath to do: overturn himself. Earlier this year, Khamenei banned West-made COVID-19 vaccines, which was implemented as a ban on the most effective vaccines: those produced by Moderna and Pfizer. Now he has noted that Iran should take steps to secure vaccines, officials saying there is no longer a ban on any vaccine. This welcome move creates an opportunity that the Biden administration must seize.
It is of the utmost importance that the Iranians are included in President Biden's list commitment vaccinate the world. This would not only be a necessary goodwill gesture towards the Iranian people at a time of diplomatic stalemate over the nuclear issue, but would also help curb the spread of the COVID variants that threaten everyone. By helping the world's most vulnerable, President Biden would make the planet a safer place and rebuild American influence in a way that can help solve other issues, be it multilateral diplomacy with Iran, various regional crises or climate change.
Earlier in the pandemic, after reports emerged that US sanctions were hampering Iran's ability to pay for vaccines through the World Health Organization's Covax program, the Treasury Department exempted financial transactions involving vaccines and medical equipment needed to fight COVID . This has helped Iran import larger quantities of the vaccine, although most of it is still Sinopharm's relatively ineffective Chinese vaccine. Now the United States can do more to ensure Iran receives superior mRNA vaccines and other medical aids.
This would have two major advantages for the national security interests of the United States. First, it would help control the spread of COVID in the hardest-hit country in the Middle East, reducing the chances that more transmissible, deadly, and vaccine-resistant variants would emerge. Second, the Iranian foreign minister has noted that allowing COVID aid to reach Iran would send a "good" signal about US intentions. That could flatten the Biden administration's negotiations to reinstate the Iran nuclear deal.
The need to increase COVID aid to Iran is urgent and the Iranian government deserves a lot of blame for the mismanagement of the crisis. Khamenei's ban has been harshly criticized, and rightly so. In a video that went viral on Iranian social media, a young woman cries and mourns the death of her husband, directly accusing Khamenei of having obstructed the supply of vaccines. Meanwhile, public officials are busy pointing fingers: Health ministry officials have made the foreign ministry the scapegoat for failing to buy vaccines, while former foreign minister Javad Zarif said higher authorities rejected his purchase of 20 million doses from Europe.
Things only got worse in August, when the Delta variant hit Iran. More than 700 people died recently. Examining the chaotic and warlike scene in Iranian hospitals, an Iranian official said, "Only the smell of gunpowder is not inhaled and the color of blood is not seen.
The pandemic has caused immense human suffering in a country where a large part of the population was already struggling under severe economic hardship due to years of sanctions. As of September 27, more than 120,000 Iranians have died from COVID-19 – and Iranian health ministry officials say the actual death toll is at least double. A to study by BBC Persian found that there were 200,000 more deaths in Iran during the pandemic.
Hospitals in Iran's main metropolitan areas are dangerously over capacity. At the top of the Delta wave, Iran ranked fifth around the world in terms of COVID-19 patients hospitalized in intensive care units – after the United States, India, Brazil and Colombia – and across the country there are more and more beds of intensive care. While the pace of vaccinations has steadily increased in recent weeks, many vaccination centers have closed their activities for months "until further notice" due to a lack of vaccines.
Iran has so far imported vaccines through three channels: buying them through the WHO's Covax program using funds frozen by sanctions in countries like Iraq and South Korea, buying them from the China via the Iranian Red Crescent and receive them as gifts, mainly from Japan and South Korea.
President Biden is expected to speed up the export of mRNA vaccines, such as those produced by Moderna and Pfizer. These have been shown to be safe, effective and are produced relatively quickly. This can be done through the WHO Covax program, Pfizer and Moderna subsidiaries abroad or in third countries. For example, the Iranian foreign minister has been in talks with its German counterpart to import the Pfizer vaccine. President Biden is expected to give the green light to third countries carrying out these transactions and ensure that Moderna and Pfizer subsidiaries in Europe have enough vaccines to meet Iran's orders. The United States can also unfreeze some of Iranian assets abroad to use them exclusively for the purchase of medical products. These transactions can be routed through the US-Treasury Department designed Swiss financial channel with Iran, which has strengthened due diligence standards.
Exporting vaccines should be the most urgent priority for the Biden administration. The point is, America will never be safe from the virus until the world is secure. President Biden could be a world hero here, and for the Iranian people it can't come soon enough.
Sina Toossi is a Senior Research Analyst at the Iranian-American National Council. He tweets @SinaToossi.