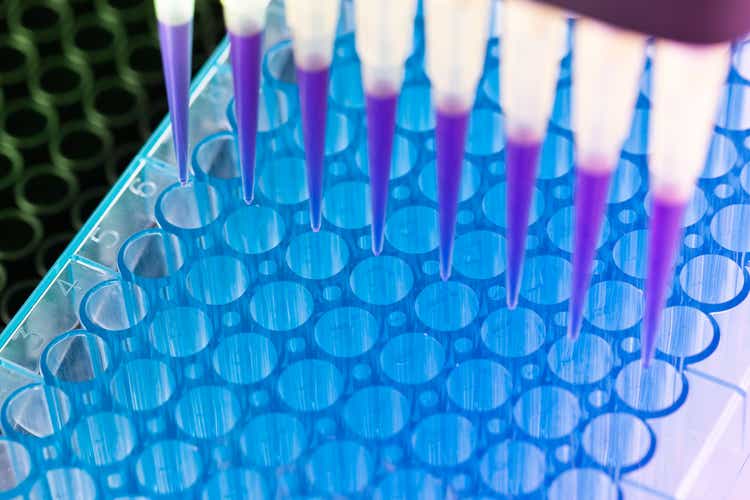 Cytek Biosciences (NASDAQ:CTKB) Stock Check
Never memorize something you can search."-Albert Einstein
Today we take a closer look at an interesting little health issue that became public this summer. Thanks to bitter market sentiment, the stock has more than halved from recent highs, even as the company sees impressive revenue growth and is already at break-even cash flow. . A full analysis follows below.
Company presentation:
Cytek Biosciences, Inc. (NASDAQ: CTKB) is a Freemont, California-based manufacturer of cell analysis instruments that are marketed to pharmaceutical companies, as well as clinical and academic research centers in 40 countries around the world. Since launching its first cytometer in the United States in mid-2017, the company has sold over 1,000 units to over 620 customers. Cytek was founded as Cytoville in 2014 and went public in July 2021, generating net proceeds of $215.7 million at $17 per share. Its shares trade at just over $11.00 per share, which translates to a market capitalization of around $1.5 billion.
The company's marketing efforts revolve around its two primary full-spectrum flow instruments. Before the advent of its full-spectrum cytometry, there was (and still is) conventional flow cytometry, which measures the peak emission of each marker (fluorochrome) covalently bound to the cells being assessed. Fluorochrome is a chemical compound that can re-emit light when excited by light. Full spectrum cytometry measures (via red, yellow, blue, violet and ultraviolet lasers) the entire emission spectra for each fluorochrome, across the entire visible light spectrum. As such, full-spectrum profiling collects significantly more information about each cell compared to other methods, making it ideal for immunophenotyping major cell subsets found in human blood, as well as for additional applications in genetics, infectious diseases, among others.
Cytek's first instrument was Aurora, a full spectrum profiler [FSP], which, thanks to its – depending on the upgrade – from three to five lasers, gives users access to more than 24 to more than 40 colors. Aurora is marketed to biopharmaceutical companies, commercial research organizations and universities with large research facilities. This first foray was followed in 2018 by an entry-level offering, dubbed Northern Lights, which generates up to 24 colors from one to three lasers. In June 2021, the company launched Aurora Cell Sorter, which leverages the detection capabilities of (and integrates with) its Aurora FSP to isolate live cell populations beyond 40 biomarkers, enabling more genomic and proteomic analysis. thorough. Although designed to work with Aurora FSP, Cytek's sorter can also sort conventional analyzer panels, whereas conventional analyzers cannot work with the very complex output of an FSP.
These are Class 1 laser products and as such are intended for research use only and not for diagnostic or therapeutic applications.
The company's platform is complemented by accessories, reagents, software and services. To provide a more comprehensive reagent offering, Cytek purchased cell analysis company Tonbo Biosciences in November 2021. That said, instrument sales represent the preponderance of Cytek's product line.
Although management believes its offerings represent "the first full-spectrum flow cytometers capable of providing high-resolution, high-content, high-sensitivity cellular analysis using the full spectrum of fluorescence signatures from multiple lasers to distinguish fluorescent labels on single cells", Cytek controls only a small portion of the market for flow (and mass) cytometry instruments. Competition in the $8 billion global vertical includes platforms from Agilent Technologies (A), Danaher's Beckman Coulter (DHR), Becton Dickinson (BDX), Bio-Rad Labs (BIO), Fluidigm (FLDM ), Miltenyi Biotec, Sony Corp. (SONY) Sony Biotechnology and Thermo Fisher Scientific (TMO).
However, since its full-spectrum technology has broader applications in the cell analysis market, Cytek is looking to tap into another $8 billion market consisting of cell viability, cell signaling, cellular interaction and cellular structure that conventional flow cytometry is unable to address. Additionally, there are other opportunities in marine biology, water analysis and biofuels that the company will pursue in the future.
Thanks to its superior cytometry platform, Cytek grew significantly from 303 at the end of 4Q19 to 970 at the end of 3Q21 (and 1,000 on November 17, 2021), representing a CAGR of 94%. FY20 revenue increased 60% from FY19 to $92.8 million. To meet robust demand, the company tripled its manufacturing capacity in October 2021 by moving to Freemont to a 100,000 square foot facility.
3Q21 results:
Its solid growth continued in 2021, but not at the blistering pace of 2020. On November 8, 2021, Cytek reported non-GAAP net income of $4.1 million for 3Q21 on revenue of $34.4 million dollars versus a non-GAAP net profit of $6.7 million on revenue. of $25.1 million in 3Q20, representing a 37% increase in revenue and $1 million better than Street's expectations.
For the first nine months of 2021 (YTD21), the company had non-GAAP net income of $7.9 million on revenue of $89.1 million, compared to non-GAAP net income of 14 $.2 million on revenue of $62.2 million in YTD20, reflecting 43% of top of the line growth. Gross margin (non-GAAP) was 63%.
The quarter, its first as a public company, was well received by Street analysts but barely registered with the investment community. Its stock traded $0.55 down (2%) at $24.49 on tepid volume (167,900 shares) in the following trading session, marking the highest close in three months. following.
4Q21 results:
The company announced its fourth quarter results on February 23. The company earned 9 cents per share of earnings on a non-GAAP basis, two cents below estimates. Revenue is up more than 37% from the same period a year ago to just south of $39 million, slightly above expectations. For the full year, Cytek posted revenue of $128 million, up 38% from fiscal 2020.
Review and analysts' comments:
Considering Cytek is generating strong revenue growth and is essentially breakeven on an operating cash flow basis, it is in excellent financial position with cash and cash equivalents of $365 million against no debt.
Street analysts are generally bullish on the company's outlook, with a buy rating and two outperform ratings versus a hold rating with a 12-month median price target of $20 per share. They expect Cytek to generate non-GAAP EPS of $0.03 on revenue of $163 million in FY22 after earning $0.11 per share (non-GAAP ) on revenue of $125.4 million in FY21, reflecting revenue growth of 28%.
RA Capital Management, represented on the board by Tess Cameron and a pre-IPO investor, raised its position by just over a million shares with purchases below $15 through several transactions from the February 14 to 22. They've added more than $20 million to their holdings so far in March
Verdict:
RA appears to have been a cost average after CTKB shares surged 60% since the company's relatively upbeat 3Q21 earnings report. Cytek clearly has a differentiated flow cytometry platform with significant market opportunity. However, three dynamics contribute to lower prices. First of all, everything related to healthcare has been beaten in the last few months and medical devices are not immune, with the iShares US Medical Devices (IHI) ETF and the S&P Health ETF Care Equipment (XHE) both down sharply since the start of the year.
Second, the company's lock-up period ended at the end of January, which likely kept potential investors away. Third, the stock is trading at aggressive valuations, namely just over nine times FY22 sales (7x net of cash). To justify this valuation, Cytek must demonstrate that it can grow revenue faster than analysts' forecast of 28% for FY22; or increase its bottom line sufficiently that it looks like a bargain. Cytek is a good company that is simply overrated. If stocks continue their descent to the $10 level, stocks could be worth at least a 'watch the article' position at that time.
Wonder is the seed of knowledge"-Francis Bacon
Bret Jensen is the founder and author of articles for the Biotech Forum, the Busted IPO Forum and the Insiders Forum