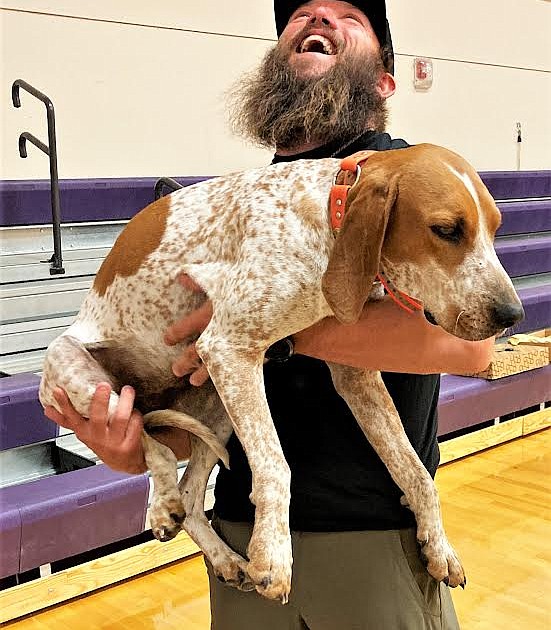 Northwestern Montana man is a celebrity on "Mountain Man"
When Jake Herak went to school in Dixon and Charlo, he didn't even like school. He constantly bumped into teachers and coaches, ran around town without a shirt or shoes, and spent a lot of time in his grandmother's ISS class (school suspension). But sport taught him lessons that still remain today.
Now, at 32, he's a celebrity on national television, signing autographs at his old school.
Herak will soon be entering his sixth season on The History Channel's "Mountain Men", doing what he loves: hunting and raising mountain lions with dogs. He got the job, he said, simply by following his passion.
"I went out. I followed my dream. I planted all the pumas in this valley. I built a reputation for myself. Honestly to God, one day my phone started ringing.
Representatives from Warm Springs Productions in Missoula said they followed him on social media and asked if he wanted to be the next man on the mountain.
"I have never looked back."
Herak recently spoke at Charlo School at the request of his former football coach, Steve Love, who is also the district superintendent. Love had seen Herak speaking at his grandmother's funeral. "Miss Ingrid" Roberts was a very special woman, Love said, and had worked in Charlo schools for over 30 years.
"I was so impressed with the way Jake spoke at his funeral," Love said. "He's been through a lot and he's done a lot. "
Love said he didn't ask Herak to come and talk at school just because he was on TV.
"I asked him because he has a good message."
Herak showed clips of "Mountain Men" which had many students on the edge of their seats. Cameras followed him as a puma leaped from the tree and was chased away from him by his dogs; as he climbed trees and descended cliffs, split or drive fighting dogs away from a bobcat, and even started a pickup with a dead battery while rolling in reverse.
"It's pretty awesome to be able to go out and share your passion with the rest of the world," Herak said. "You can tell, that's what I love to do. I feel like this is what I was born to do.
But, as is show business, the show is an altered reality.
"I am always followed by a film crew of one or two men. They take me up and down a mountain about five times before they say, "OK, let's go. What you see on TV, don't believe it. Just because you saw it on TV doesn't mean it's true.
As a child, Herak said, his family neither hunted nor fished. He was 20 when he started hunting mountain lions, when he had his first dog. But in kindergarten he saw the movie "Jeremiah Johnson".
"From that day forward, I decided I wanted to be a mountain man," he said. "And it's pretty crazy that I can play this character on national television."
But he never forgot his roots.
"I was a Viking, no different from any of you," Herak said. "It's something I'm very proud of.
"You might be from a small American town, but that doesn't stop you from making your dream come true. Follow your heart. I was sitting right there in the stands like you. Don't think for a second that this can't happen to you. TV might not be your thing, but whatever it is follow your heart, and I guarantee you will never regret it someday.
Growing up on the reserve is difficult, Herak said.
"Believe me, I know all about this. You're going to be exposed to both drugs and alcohol at some point in your high school career. And it's very important that you know that you don't have to participate to be cool.
He said he didn't drink alcohol in high school and still doesn't.
"If your boyfriend is your friend, he won't force you to do something you don't want to do. If you stand up for yourself, they will respect you for it. And there will be a time when you have to do that in life.
Herak said he lost many friends and family members growing up, many of whom were linked to drug overdoses, drunk driving and suicides. That, and losing a best friend to a trailer fire, shaped who he is, he said. He joined the Twin Bridges Fire Department when he was old enough.
One of the hardest things he did in life was to leave Charlo for Twin Bridges at the end of his freshman year, when his family moved to Dillon. It was embarrassing coming back to play against his former team and the fans in his hometown who had seen him grow up, the first game of his senior year.
Growing up in Charlo, he hadn't realized how much everyone supported him.
"I fought with Mr. Love for many years. We have released it several times. And I respect him for that. "
But back then, he said, he felt more supported when he showed up to Twin Bridges, and that's where he still lives, works on ranches and hunts big cats. He trains several times a week with the soccer team there, which keeps him in shape to chase his dogs.
"They send these guys [cameramen] to go through fitness classes to try to keep up with me.
"Coming back to this school is something I never thought I would do. And standing in front of a group of kids, talking, is very difficult for me, believe it or not. As you can see my hand is shaking. I'm nervous as hell. But it's really important to face your fears. When you are able to spread the good, you must do it. Especially coming from a small town like this, it's very, very important.
"Sport was the world to me. It got me to be competitive, and it actually got me chasing these hounds up and down the mountain. It's the closest thing I could get to, in the Friday night lights. I can't tell you how much fun you are having right now. You better take advantage of the moment because it goes by so fast.
"I think playing sports will teach you more life lessons than, honestly, going to high school. Sorry to say that, professors. But it's really important that you know how to win, know how to lose, and know how to accept it. Because in life you are going to win, you are going to lose and you are going to get shot. You're going to have to get up.
"Everyone has bad days, everyone has good days. When you see someone having a bad day, give them a pat on the back and try to pick them up. It is a small city. You are stuck with each other. From the most popular kid in the class to the most nerdy kid, you all need to stand together.
Herak's main message, he said, is, "Just be real, it's the best you can do. Be yourself, be true to yourself. Never try to change who you are to impress someone else.
He choked when more than half of the students raised their hands to say they saw him on the show.
"I'm definitely not the best guy to be on this TV screen. There are men who are much more handsome than me. But I take this opportunity given to me and I run with it. And I hope you can do the same someday.