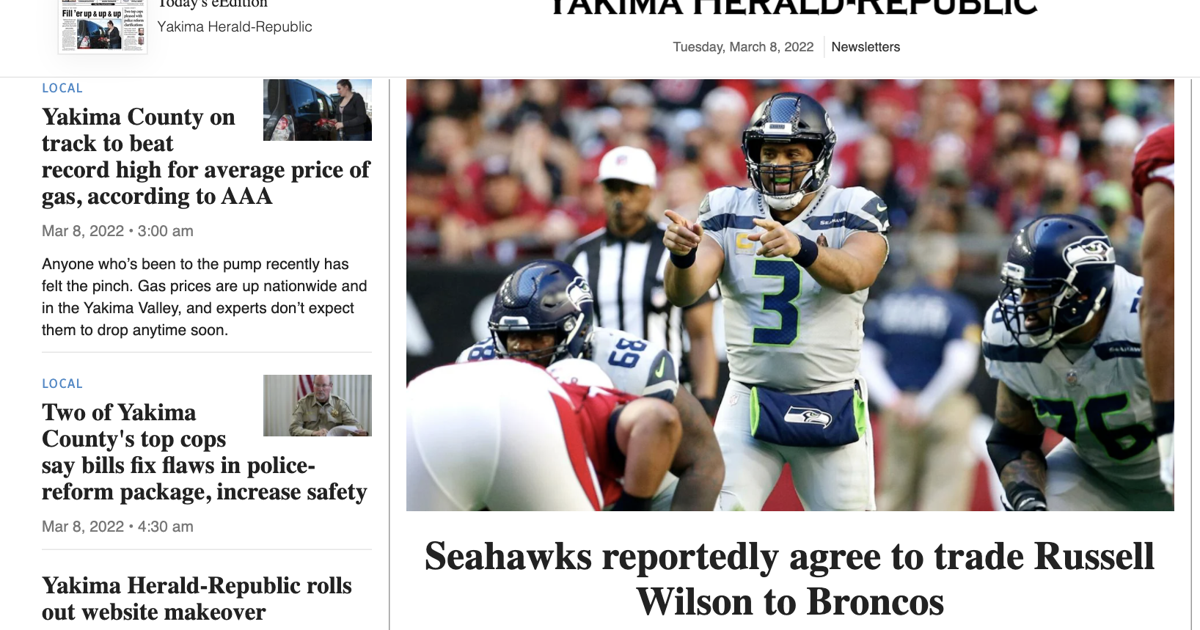 Yakima Herald-Republic Rolls Out Website Redesign | Business
Things are going to be very different when you visit YakimaHerald.com from Tuesday 8 March 2022.
The Yakima Herald-Republic team spent nearly a year preparing a new website as part of the newspaper's plan to invest in local journalism and keep Yakima Valley residents informed for years to come. to come.
Along with a fresh, clean look, the new site was designed from the ground up to work well on mobile devices and desktops so it's easier to find the latest local news, sports and articles. background you are looking for, wherever you are.
Beginning April 1, the Yakima Herald-Republic will begin delivering print-only newspapers on Wednesdays, Fridays, and Sundays as part of a larger strategy to ensure our community continues to receive the information they need in the future. The Yakima Valley is our home, and our team has been focused on finding ways to use this opportunity to better serve the people who depend on us for information. The new website is a big part of that, and we hope it will make it easier to find and read the articles that interest you.
Many rural communities across the United States have had their local newspapers shut down in recent years, and we're not going to let that happen in our Valley. The Yakima Herald-Republic plans to expand its local news coverage and launches a new section on exploring the Yakima Valley.
Another feature of our new website is that it provides quick access to the electronic edition of the journal. It's your daily Yakima Herald-Republic delivered every morning to your computer or phone instead of your driveway or paper box, and subscribers will continue to get it every day of the week.
Our mission continues to serve the people of the Yakima Valley and we deeply appreciate your support. If you are not already a subscriber, you can sign up for a digital subscription online at subscribe.yakimaherald.com. It's $1.99 for the first month, then $13.99 each month thereafter and it gives you full access to YakimaHerald.com, the e-edition and the YHR app available on your mobile phone. .
Plus, you can help support local journalism in the valley by contributing to the Yakima Free Press campaign at yakimafreepress.org.
We hope you like the new site and would like to know what you think. Email us at feedback@yakimaherald.com.
Jason Lilly is the design and digital strategy editor of the Yakima Herald-Republic.